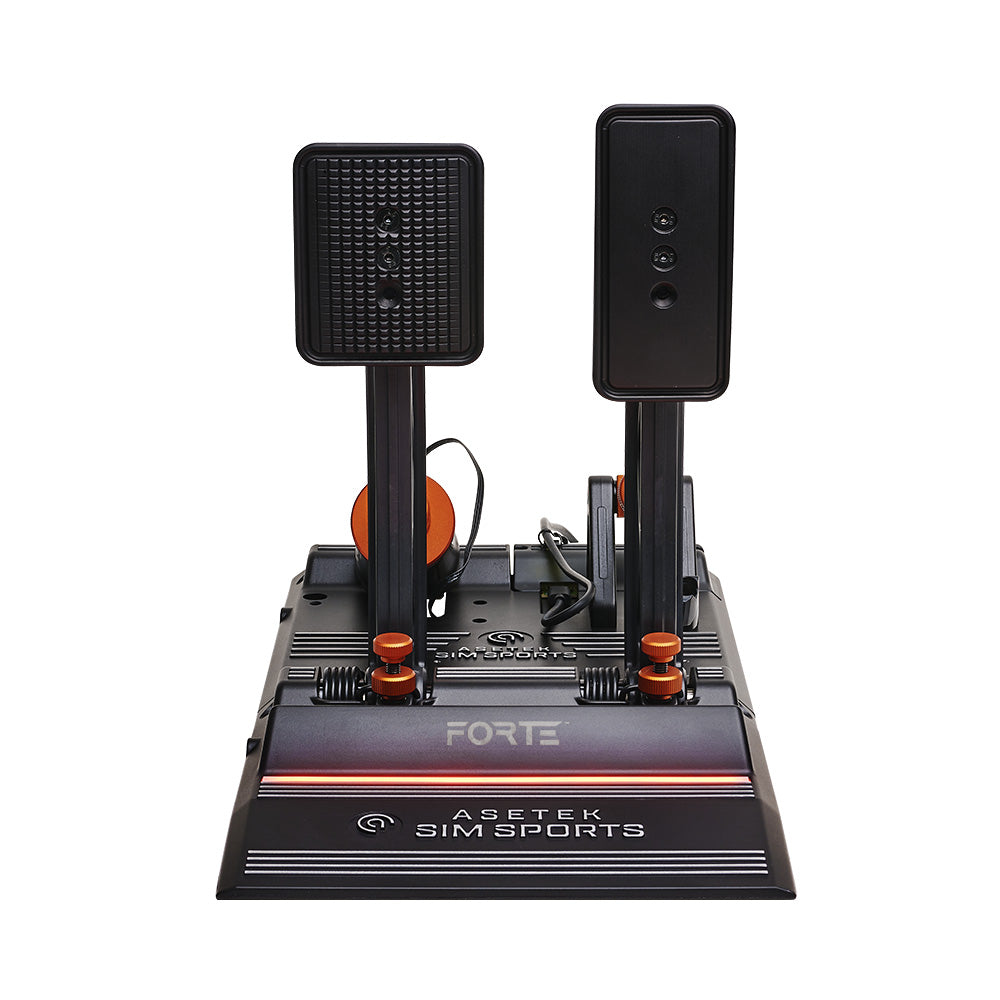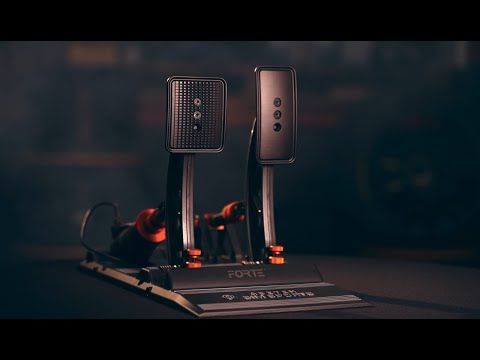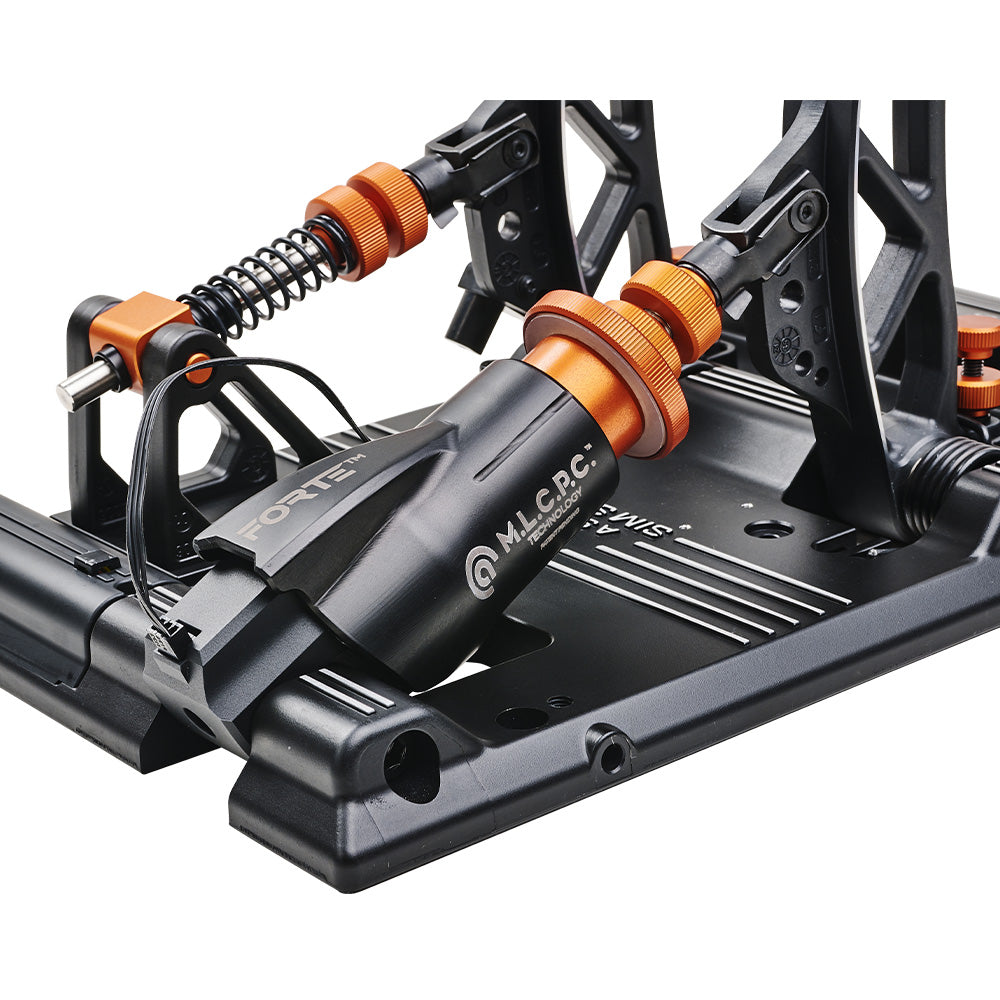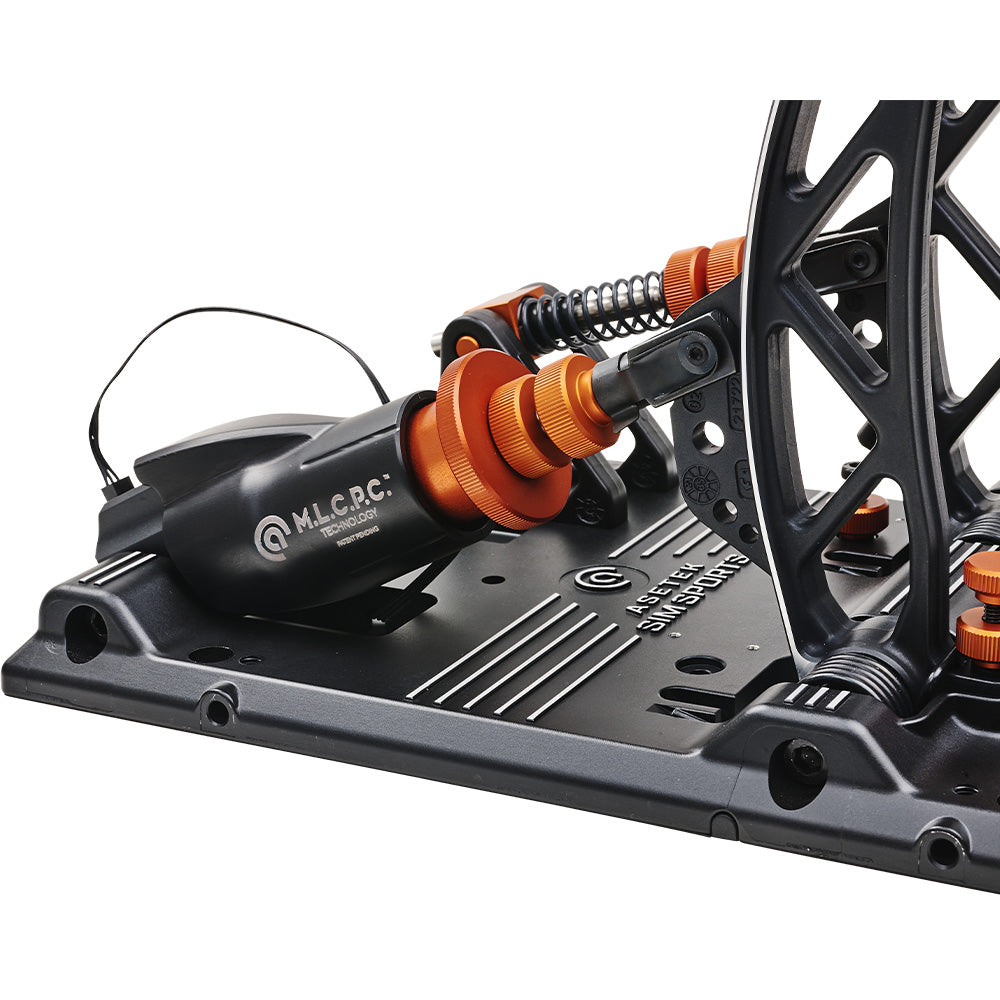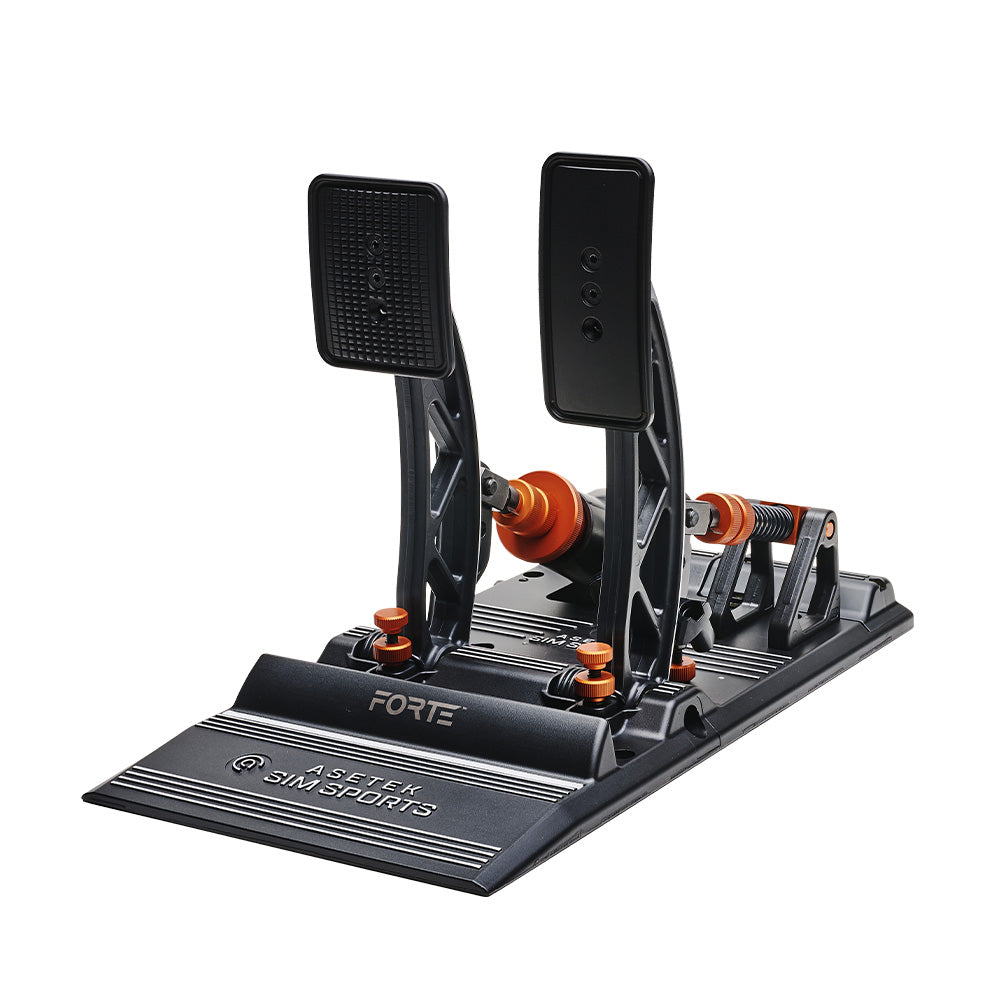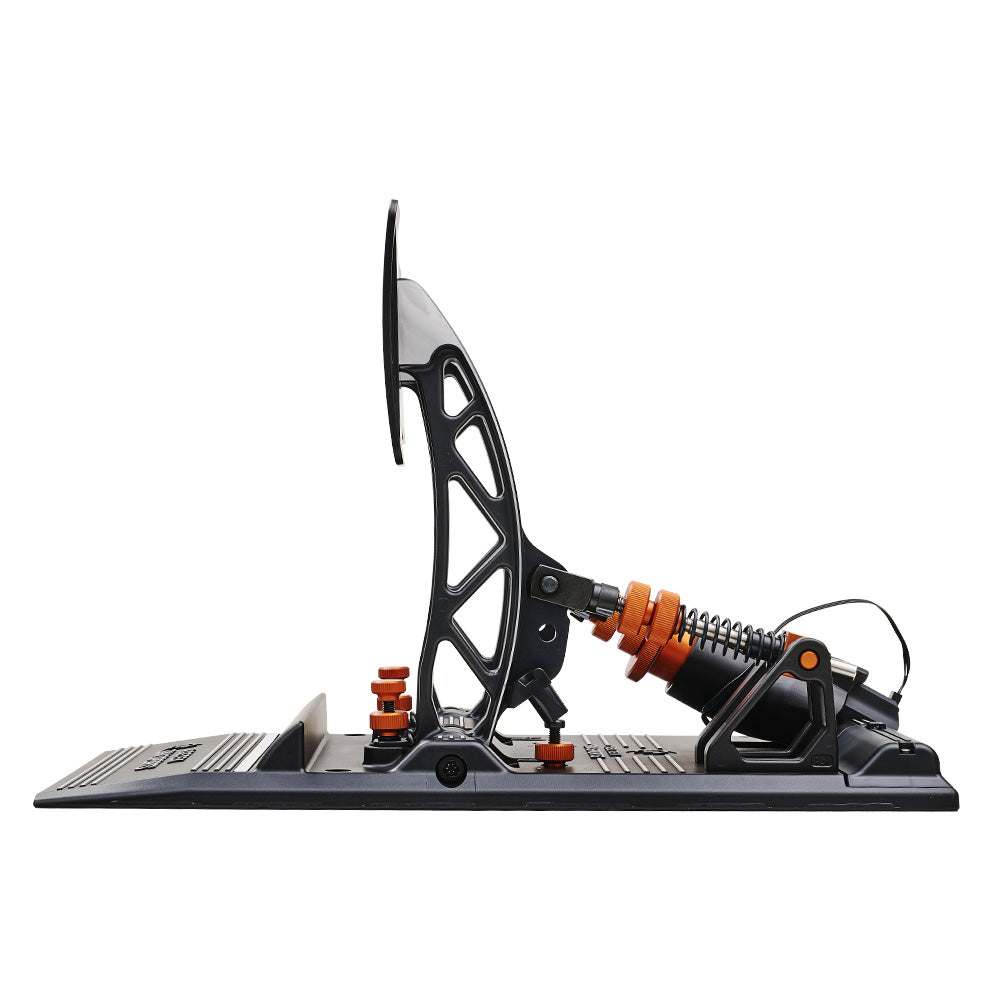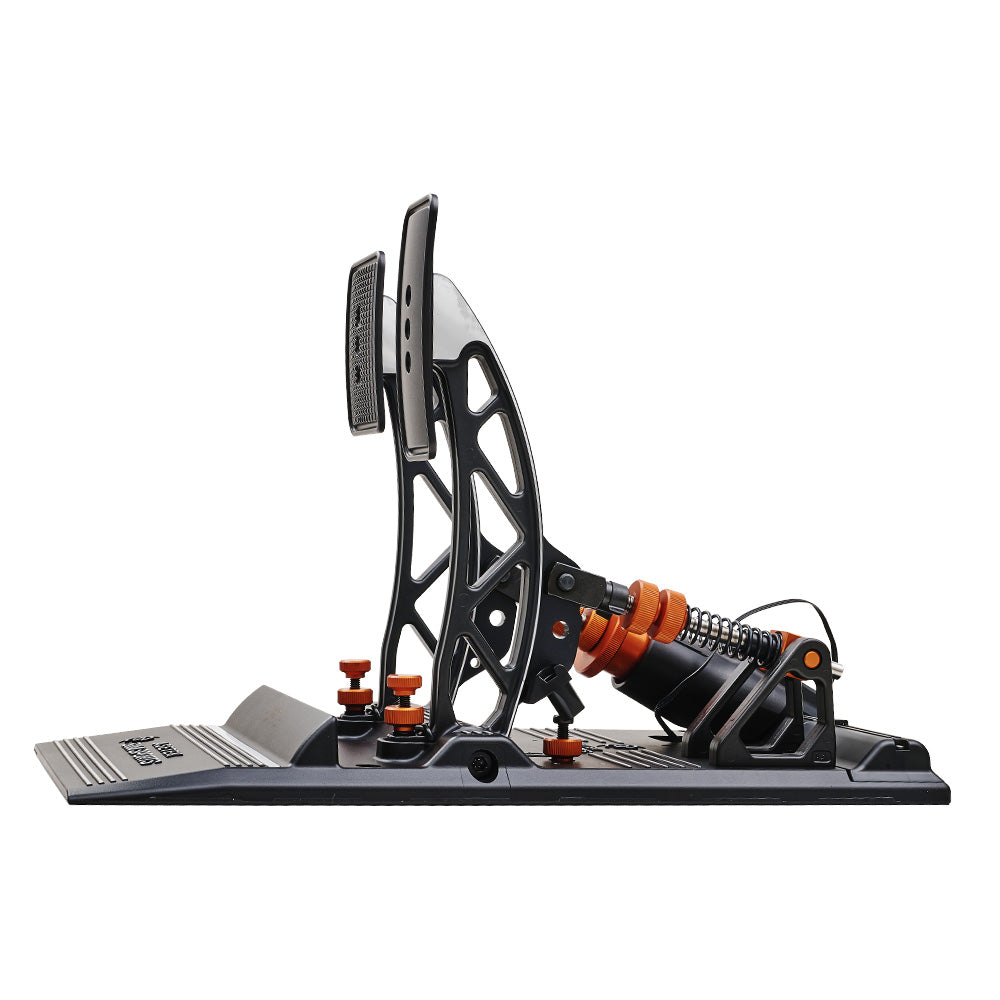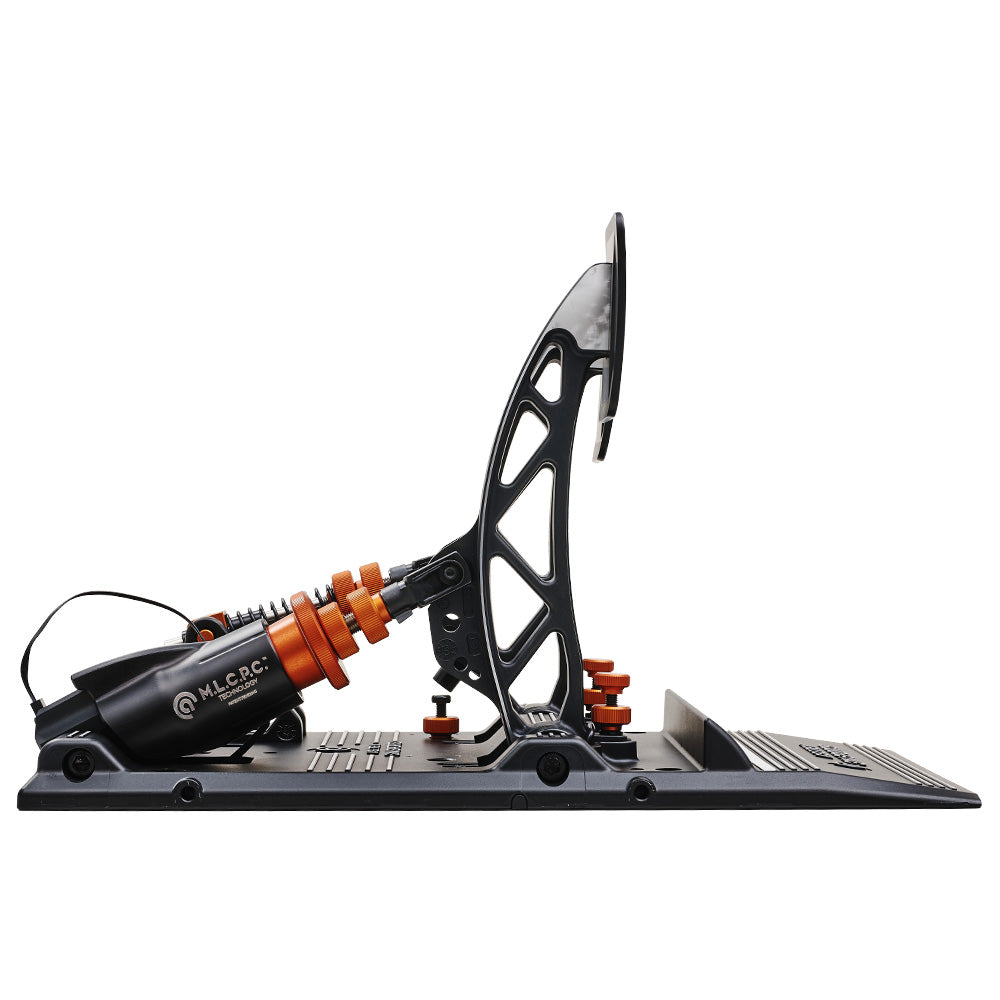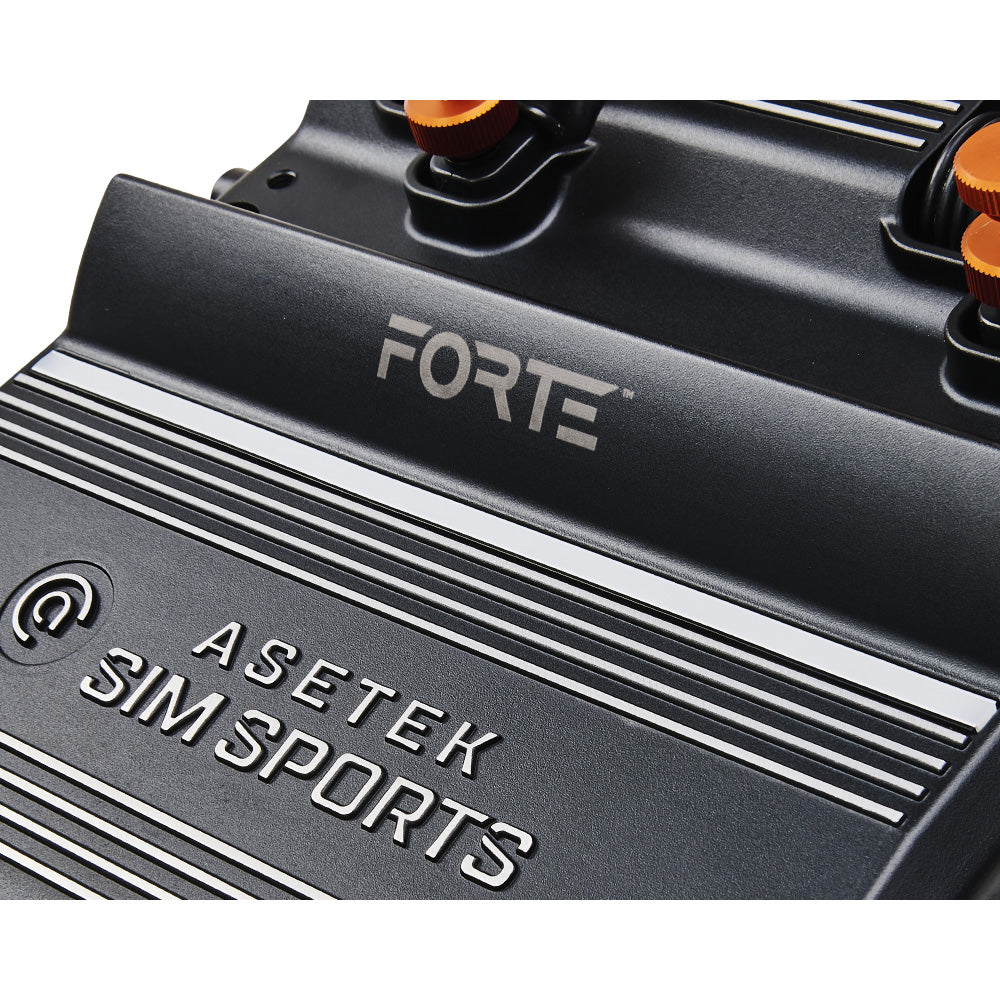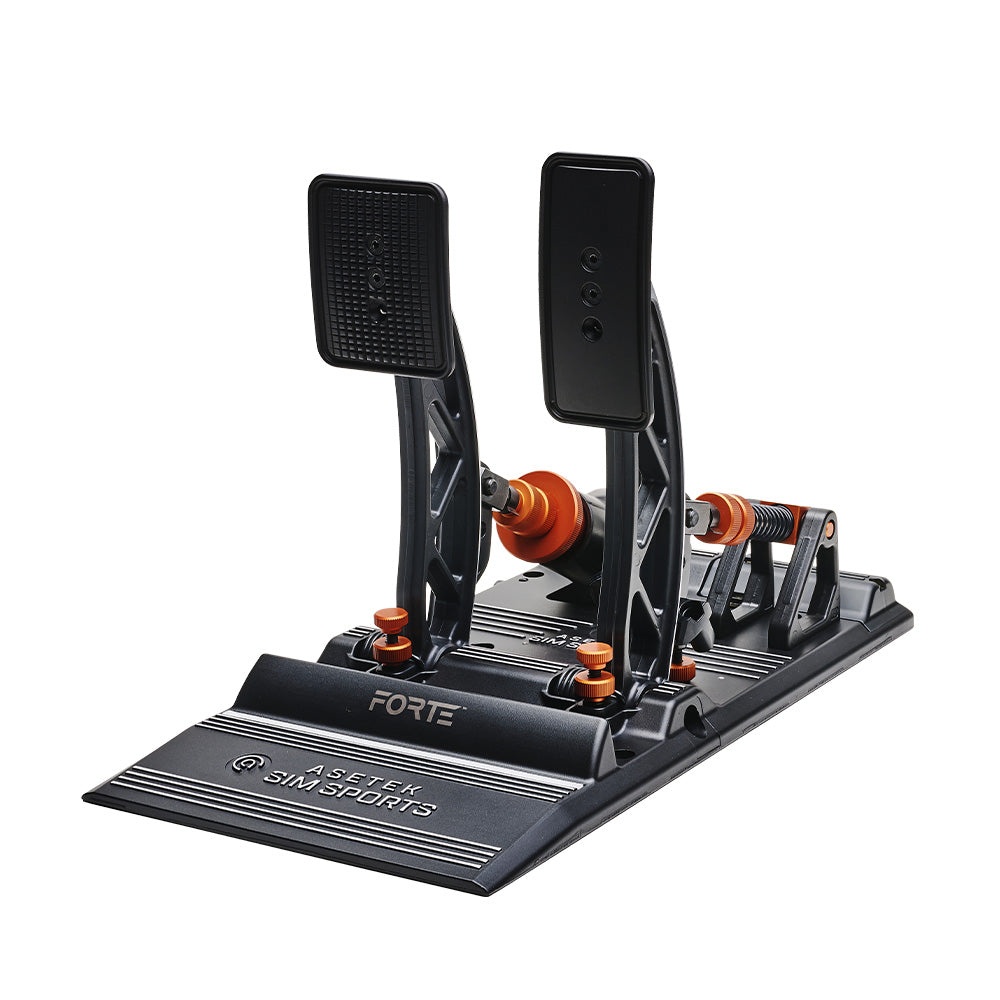 Asetek SimSports Forte Sim Racing Pedals - Brake & Throttle
---
Asetek SimSports Forte Sim Racing Pedals - Brake & Throttle

Inspired by real-life racing, the Forte Sim Racing Pedal set has been thoroughly tested by racers and sim racers alike. With that feedback in mind, the sim pedals are engineered and designed. The M.L.C.P.C.™ (Mechanical Load Cell Powered Cylinder) brake cylinder is designed to give you a realistic brake experience and is rigorously tested with up to 180 kg of pedal force.

If you have been looking for the best race car brake pedal feel, without going full hydraulic, look no further! The brake pedal on the Forte pedal set can be adjusted from soft to hard and it will stay that way – unlike many other sim racing pedals on the market, where the hardness and feel will degrade over time. It is not a coincidence a race driver wants a brake pedal, when fully depressed, feels like pushing a wall. Furthermore, Forte, while not hydraulic, will still offer you the "hydraulic sensation" of a fully depressed brake pedal, where you can still pressure modulate/trail brake thanks to the 2-stage system inspired by Invicta™. In real life, it will feel like the brake pedal when pressed 100% and hard, still will react to further pressure like when trying to compress the fluid in a brake system.

The design is engineered with user experience in mind, where all adjustable elements are colored to get you started quickly, and to ensure intuitive and mostly toolless use. The Forte sim pedals are highly adjustable to help you channel your inner race car driver, by changing the travel and hardness settings to your exact preference. And by using the Asetek SimSports® RaceHub™ software, you're ready to race in no time.

The Asetek SimSports M.L.C.P.C (Mechanical Load Cell Powered Cylinder) brake cylinder gives you, shy of a full hydraulic system, an authentic race car driving experience. The sim racing pedal set is in every sense Made in Denmark – designed, engineered, and assembled in Denmark. The brake cylinder features a custom-designed load cell sensor that detects actual changes in force on the pedal face, up to 180 kg of force on the pedal face itself (with hardest elastomer 4000N depressed 12mm / until 2nd stage is engaged) making it the closest you will come to a realistic brake experience.

Because the load cell sensor is implemented with a gearing, any user using from the softest elastomer to hardest elastomer will experience the full load cell resolution from released pedal to 2nd stage.

Forte Pedals Brake and Throttle are compatible with the Invicta Clutch System. Not Included.

Did you know?
We will be offering an upgrade path from the Forte brake system to the Invicta T.H.O.R.P. brake system. Coming soon.

DESIGN AND FEATURES VIDEO




TECHNICAL SPECIFICATIONS

General Tech

Exquisite, radical, and minimalistic industrial Danish design

Made in Denmark

Adjustable pedal stops

Adjustable travel settings

All-black anodized aluminum pedal base and pedal arms with CNC machined contrast cut. 

All-black anodized aluminum smooth and sock-friendly pedal plates allowing hours and hours of comfortable use. The pedal plates can be adjusted vertically.
Pedal base with integrated heel rest and RGB LED that can be adjusted, dimmed, or turned completely off in the

 

RaceHub™ software.
Calibrations made in

 

RaceHub

 

will automatically be saved in our EPROM (Erasable Programmable Read-Only Memory). This results in calibration (pressures, dead zones and more) will remain saved for every simulator/game (You do need to set 0 and 100% value in the game)
Only one USB connection to the PC from the pedal base regardless of 2 or

 

3 pedal

 

utilizations
All adjustable mechanical features are by default colored orange.
Inhouse-developed electronics with 16-bit resolution.
Easy to add

 

clutch

 

pedal to the Forte Throttle & Brake combo.
Sustainable manufacturing with 100% on-site re-use of waste material
Designed and tested to +1,000,000 activations, which far exceeds any race car specification.
Sock-friendly clutch plate included.

Brake System

The M.L.C.P.C.™ (Mechanical Load Cell Powered Cylinder) patent-pending brake cylinder gives you the experience of driving a real race car.
Die-cast aluminum zero play pedal arm with integrated long durability ball bearings and bronze bushing at the clevis rotation point.
Sustainable manufacturing with 100% on-site re-use of waste material

Load cell will sense up to 180 kg of force on the face of the pedal 

plate.
Two-stage system that mimics the

 

hard- and soft stages

 

of a real race car.
Three interchangeable elastomers for adjustment of hardness combined with an integrated physical stop and expansion chamber to mimic race car feel as well as not overloading the elastomers.
Manually adjustable initial touch hardness to mimic perfect brake pad to brake disc distance.
Load cell will sense up to 180 kg of force on the face of the pedal plate.
Pedal arm designed for 200 kg of force and a burst pressure of up to 700 kg!

Throttle System


Die-cast aluminum zero play pedal arm with integrated long durability ball bearings and bronze bushing at the clevis rotation point.
Sustainable manufacturing with 100% on-site re-use of waste material
16-bit magnetic wireless hall TPS (Throttle Position Sensor) with no mechanical wear and zero maintenance
Custom throttle curves can be adjusted and 100% customized in the

 

RaceHub™ software

 

to mimic a real race car butterfly opening. For example, a linear curve in dry conditions and a progressive in wet conditions
Adjustable pedal hardness
Adjustable pedal travel
Adjustable pedal stop
Interchangeable spring for bigger step in pedal hardness
Pedal arm designed for 200 kg of force and a burst pressure of up to 700 kg!

Dimensions

Depth, width, and height: 457 mm x 212 mm x 256 mm

Weight: 3 kg/6.6lbs

COMPATIBILITY

Compatible with all ASR-Brand Sim Racing Chassis featuring the

 

Steel Pedal Plate. Not compatible with Advanced SimRacing's Aluminum Pedal Tray & Adjustable Heel Rest.
PC

Platforms: Windows 10, 11

Console support planned in the future.
Games

Assetto Corsa
Assetto Corsa Competizione
DiRT Rally
DiRT Rally 2.0
F1 Series
iRacing
Project Cars 2
rFactor 2
And many more (all games that accept direct input devices)

DOWNLOADS

HOW DOES THE M.L.C.P.C.™ SYSTEM FUNCTION?

A hard brake pedal is faster because you can brake later, and it is required to properly trail brake and use your muscle memory to do so, as explained later. You can consider a race car braking system as 2 stages: The "soft stage": When you apply pressure on the pedal, it will move 10-20 mm (measured on the pedal plate), while you build up pressure, while the caliper pistons are traveling to and pushing the brake pads against the brake disc, and to compensate for the small amount of play in all the mechanical parts on the pedal system that is required for them not to seize up. The "hard stage": When hydraulic pressure is built up, the brake pads are squeezing the discs hard, and all mechanical play is compensated. In this stage, your foot is basically "pressing against a wall", because now your muscles are pressing directly against the hydraulic forces (the brake fluid). Since the fluid cannot be compressed, you will feel the pedal is hard. When a race car driver complains about a "long" or a "soft" pedal, it is typically because there is air in the system, and since air CAN be compressed, the pedal will feel soft and long. The mechanics then bleed the brakes for air, meaning there is only fluid left in the system, and the pedal is once again hard after passing the "soft stage". Most mechanical sim racing pedals on the market, have an "unlimited" travel, as it is essentially a question about how hard you squeeze the elastomer. Oftentimes, the elastomer is overworked (compressed more than designed for) and it provides a spongy and inconsistent brake feel and eventually the elastomer will brake because of being overworked out of spec. But worst of all: with the long brake pedal travel, you will have to brake earlier to build up full brake pressure! In our quest to mimic the perfect race car feel, we have implemented a mechanical stop in our M.L.C.P.C.™ brake system. You can adjust the hardness of the "soft stage", by changing elastomers, but the travel will be limited to 15-25mm on the pedal plate, to simulate the "hard stage" where the pressure has built up, and the feeling is like "pressing a wall". In the transition between the soft and hard stage (when hitting the mechanical stop) we have implemented a rubber damper, which will simulate the fully engaged brake caliper but still enable the load cell sensor to measure additional pedal pressure, which again allows for a perfect trail braking. This is the same feeling you get in a real race car. And THAT is the Asetek SimSports Forte M.L.C.P.C. difference! By adjusting the piston and thumb lock nut in front of the mechanical brake cylinder, you can adjust the preload of the system to closely mimic the gap you will experience in a real car (between disc and brake pad). We have made this adjustable, so you can have the feeling just the way you like it – and just like your favorite car. Using the RaceHub™ software, you can also adjust your dead zone on the brake pedal. This allows you to rest your foot on the pedal without getting inputs to the game. It may surprise you, but as described above, having a hard brake pedal will help you get around the track faster. It has to do with muscle memory and efficient trail braking. Having a hard brake pedal will allow your muscle memory to be trained to perfection. Muscle memory is the subconscious telling your muscles just the right amount of pressure, leaving your conscious mind to take care of more important things at that moment – like watching traffic or hitting apex. Your muscle memory is not wired to remember a position. Try to lift your hand with your eyes closed and reach the same spot within 0.5 mm 10 times in a row, and you will get the point. But your muscle memory can memorize a pressure extremely accurately, meaning going around a track, your muscle memory can make you brake the same way again and again. This cannot be achieved with a soft pedal – especially when trail braking. Furthermore, a hard and short travel brake pedal will allow you to brake later. Imagine having a brake pedal with 50 mm (common for many sim racers) of travel versus a brake pedal with almost zero travel. Imagine this scenario: You are going 300 km/h down a straight. With the long travel brake, it will physically take you perhaps 1/10 of a second more to reach full braking power. On the stiff brake pedal, you will reach maximum braking power instantly. If you have three hard braking zones on a track, you will lose 3/10 of a second each lap. The Top 10 in F1 or GT3 is frequently determined in way less than 3/10 of a second. The conclusion is that we at Asetek SimSports have developed the Forte pedals to replicate a real race car. Why? Because it is the fastest but may not be what feels the most comfortable. It is your choice whether to be the quickest or have a brake pedal that feels soft and comfortable. The Forte will allow both a softer and a longer brake pedal. NOTICE Should you wish to change the pedal stops, and thereby the angle of the pedals, it can be done entirely toolless. It will require you to recalibrate the pedals and remove the brake cylinder at the pedal arm and adjust the rod length to prevent any preload on the brake cylinder.

Shipping & Lead Time:


FREE SHIPPING to all of the Continental U.S.
We ship from Texas and California
Our typical lead time before shipping out orders is 5 to 7 business days. This varies depending on the purchased items and our shipping queue.

Once the items have shipped, transit time typically takes between 2 and 4 business days.
Please note that all large items, such as our SimRacing Chassis, Monitor Stands and Racing Seats, might not arrive on the same day as other parts of your order. Because of their weight and size, these boxes get sorted differently at our shipping partner's logistics hub.

WARRANTY:

When you purchase Asetek SimSports products, you have a 24-month warranty for defects or lack of conformity in the goods from the time you received the goods. You must give notice of the defect or lack of conformity within a reasonable time after you have established the defect. A timely, justified complaint implies that you can either get the goods repaired, get a price reduction or get a refund depending on the specific situation. https://www.asetek.com/simsports/support/

For customers based in California: California Prop65 – WARNING

Read more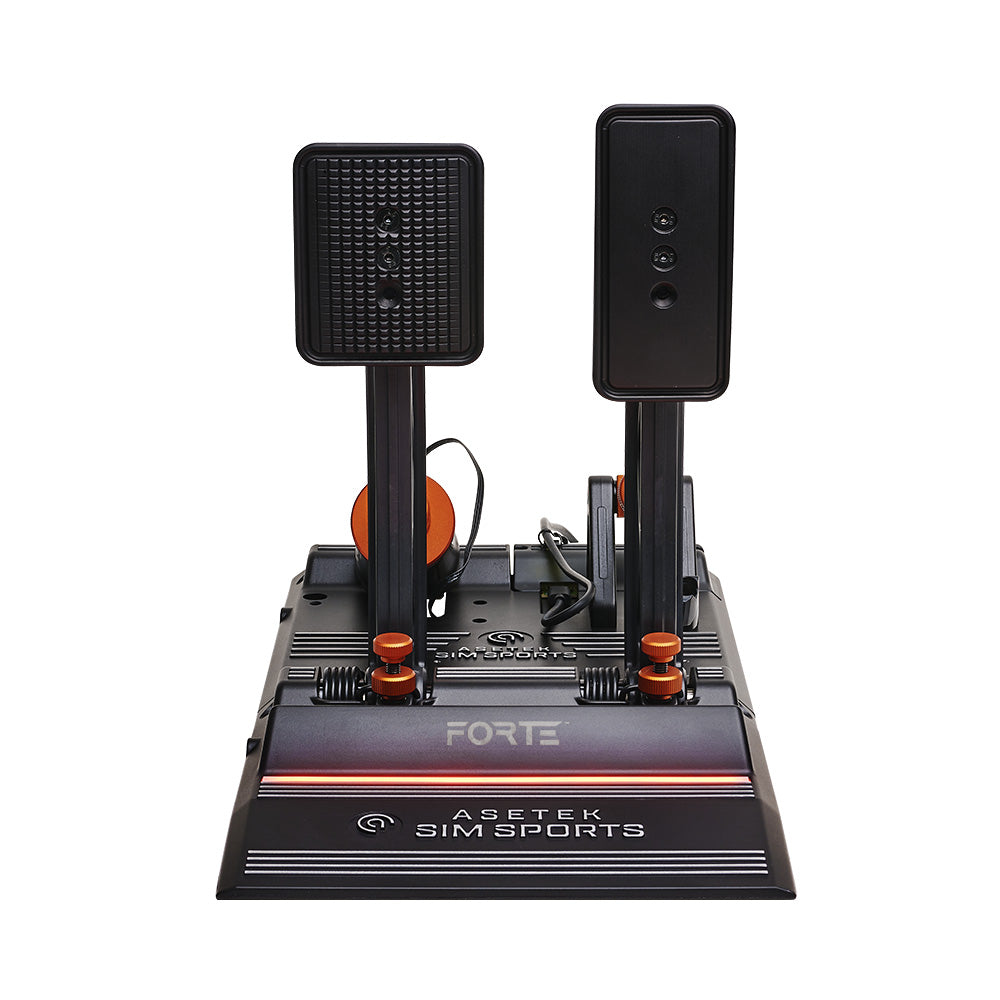 This product is rated 5.0 of 5.0 stars.
It has received 1 review.
Fast and easy
Thanks so much, these pedals came right away and I am super satisfied. Glad I can get gear like this promptly and with guidance from an American shipper.
Exactly what I needed, these Fortes. I didn't know if I could deal with the 90 degree, straight up, intended angle, but after some tweaks I was able to get used to it. Made me realize my seat wasn't in the best position, so I fixed that.
The pedals are amazing, they have great direct software and just feel super sturdy and well built.