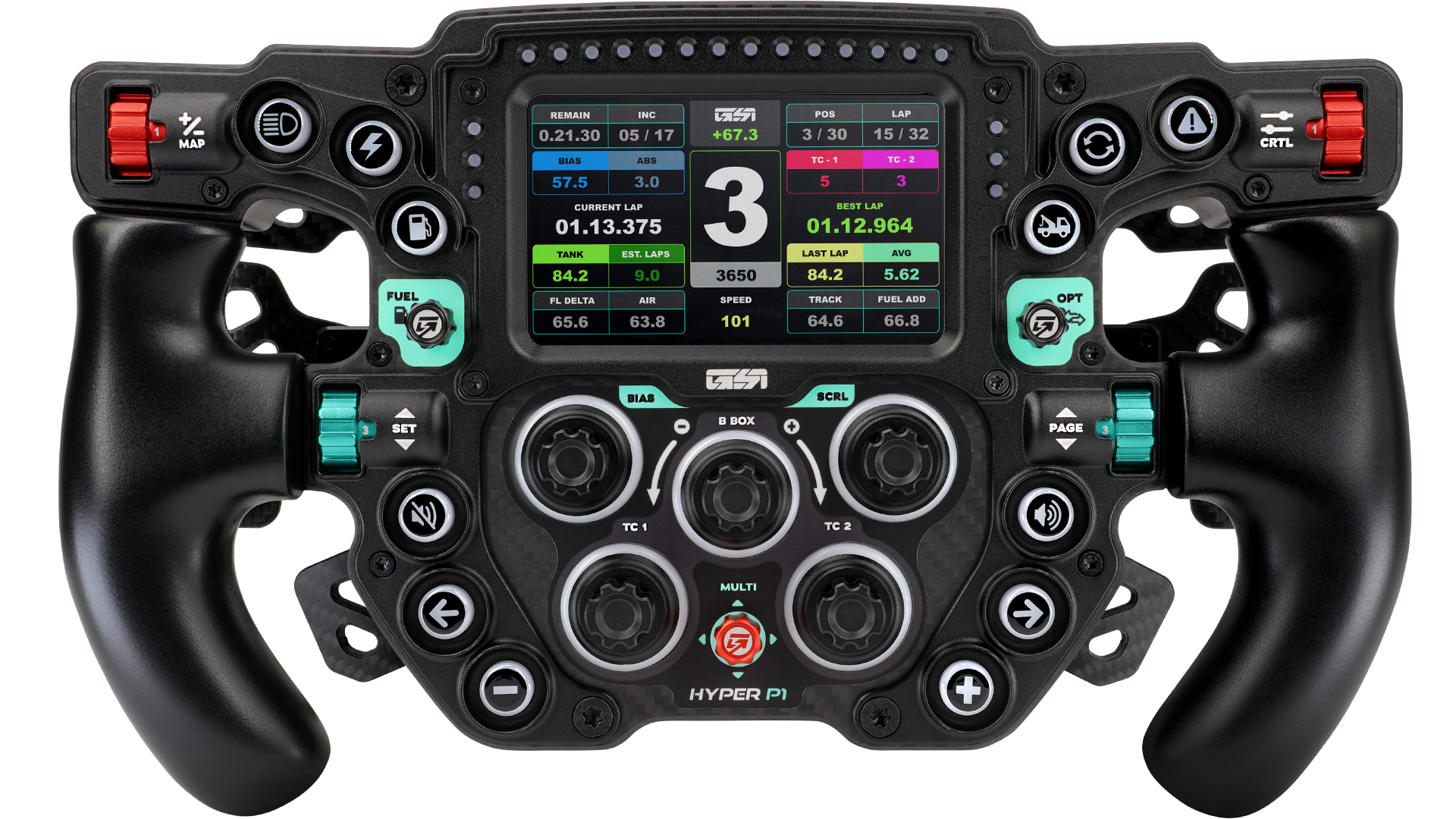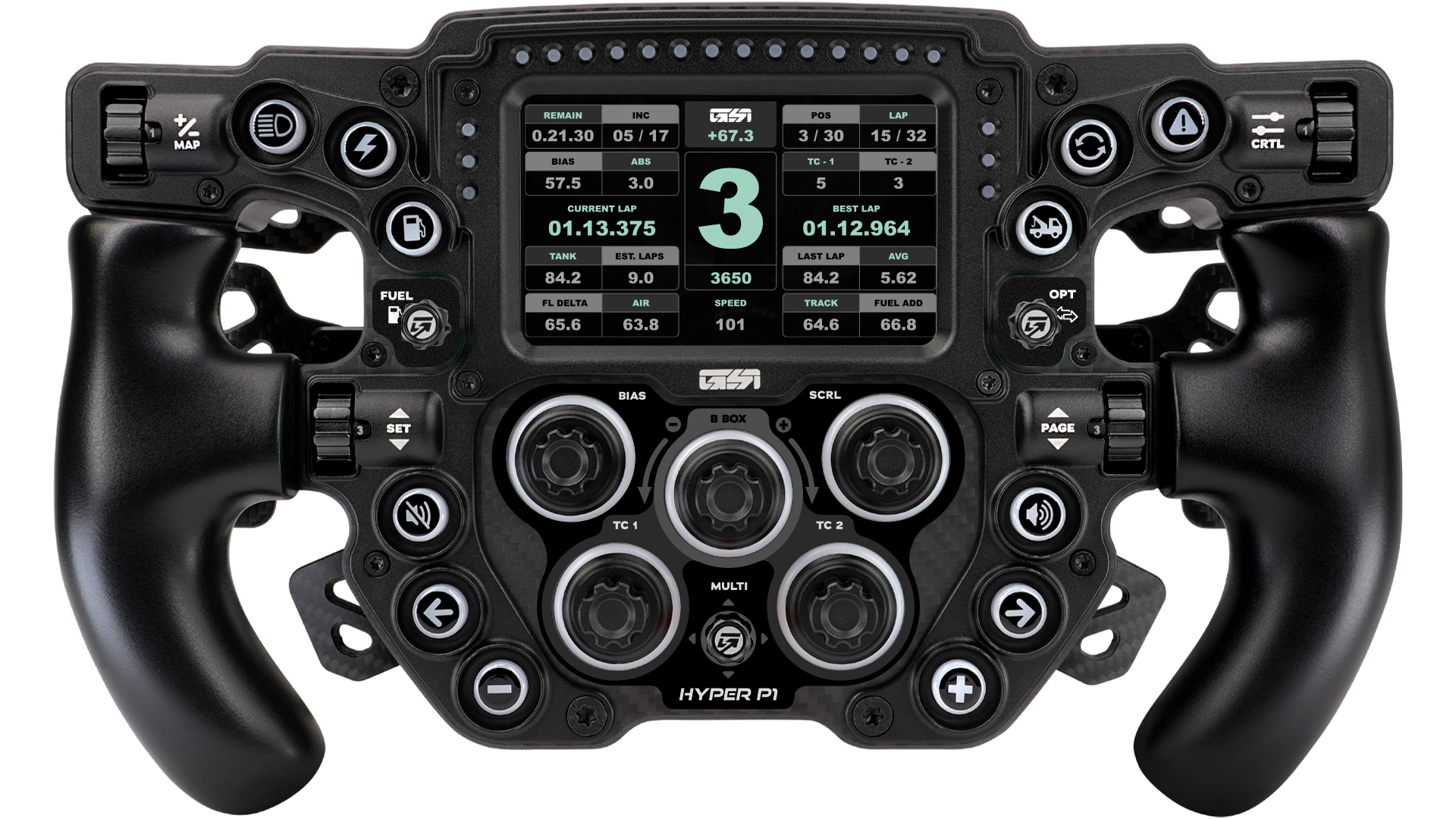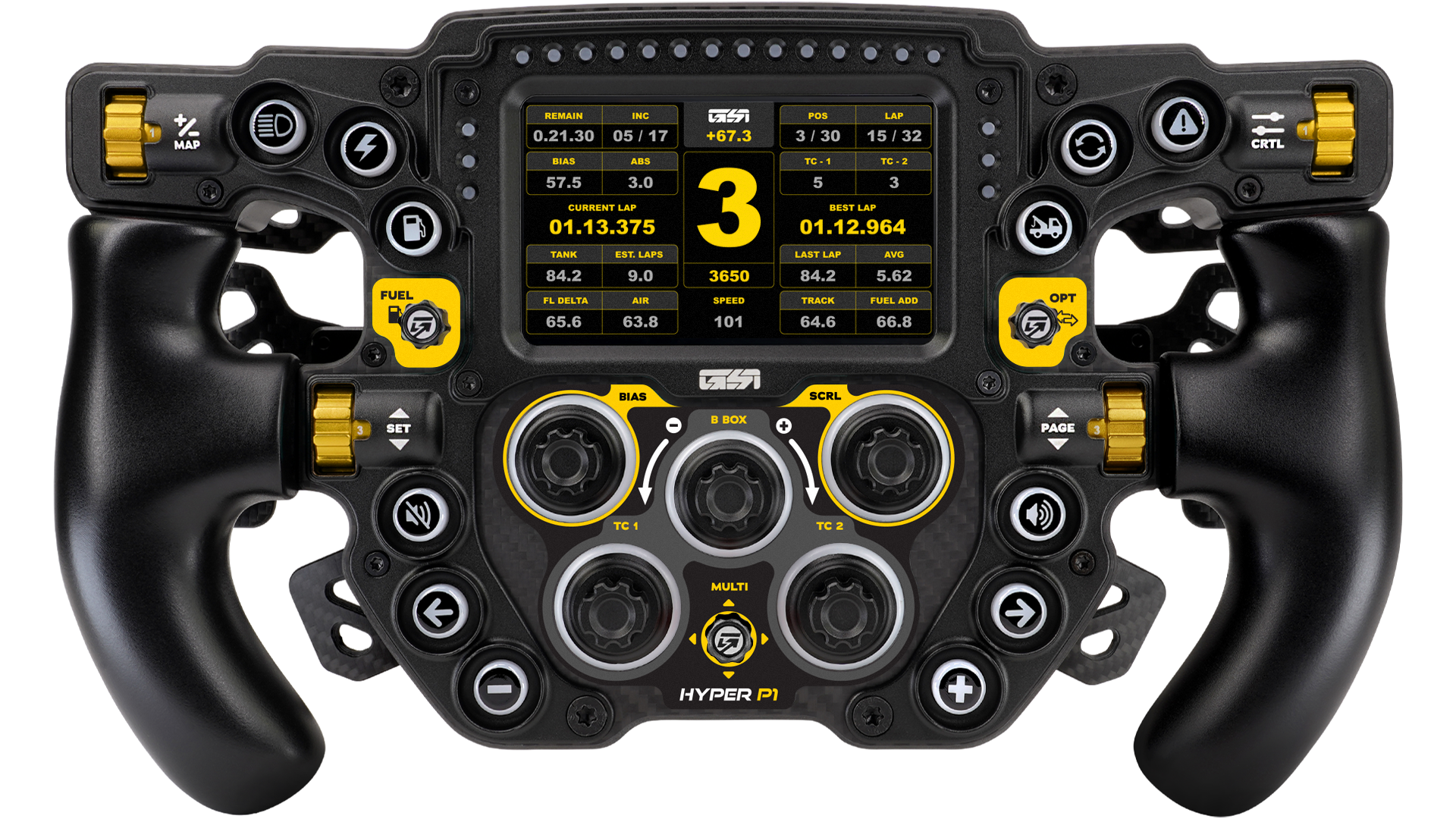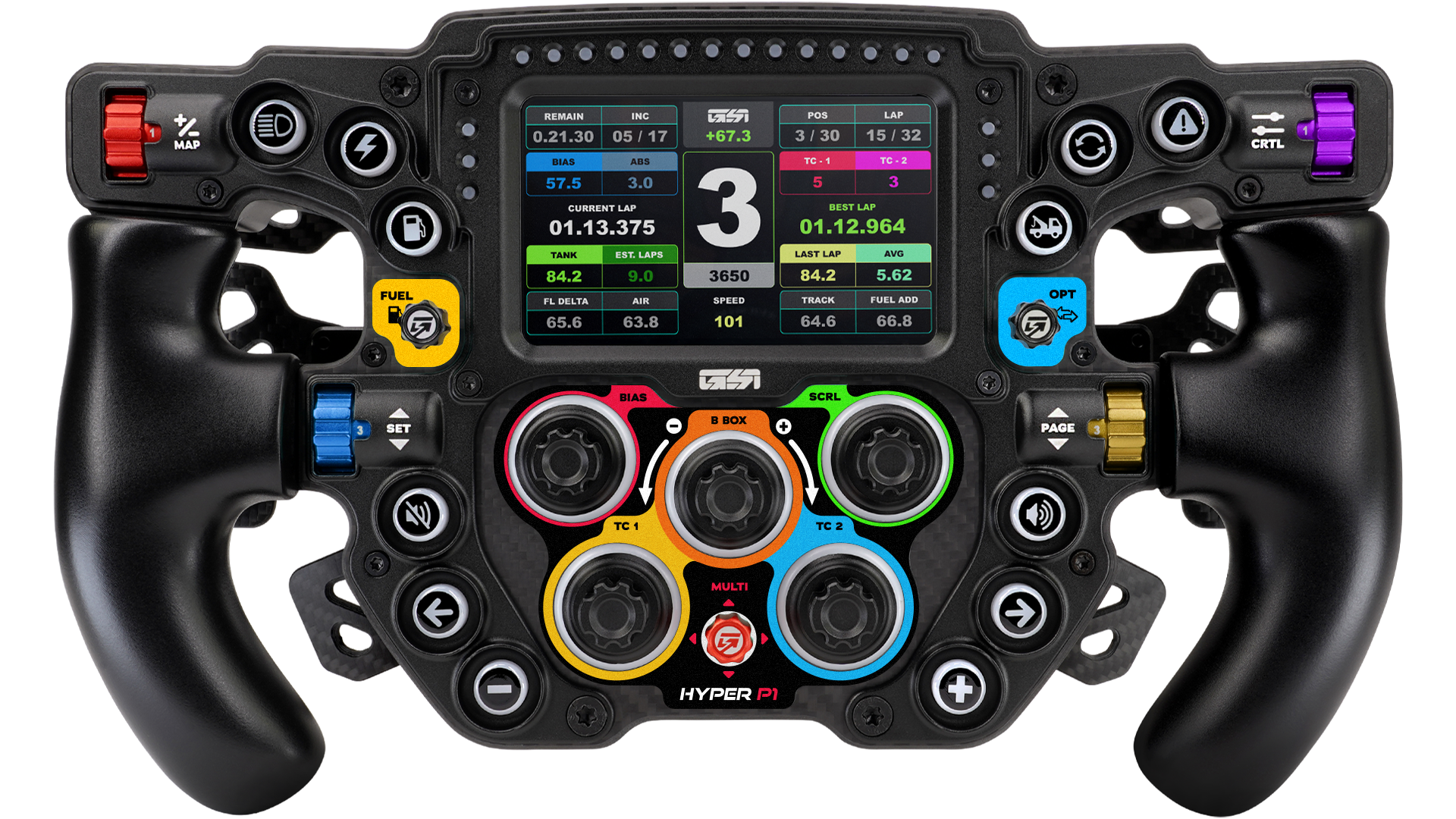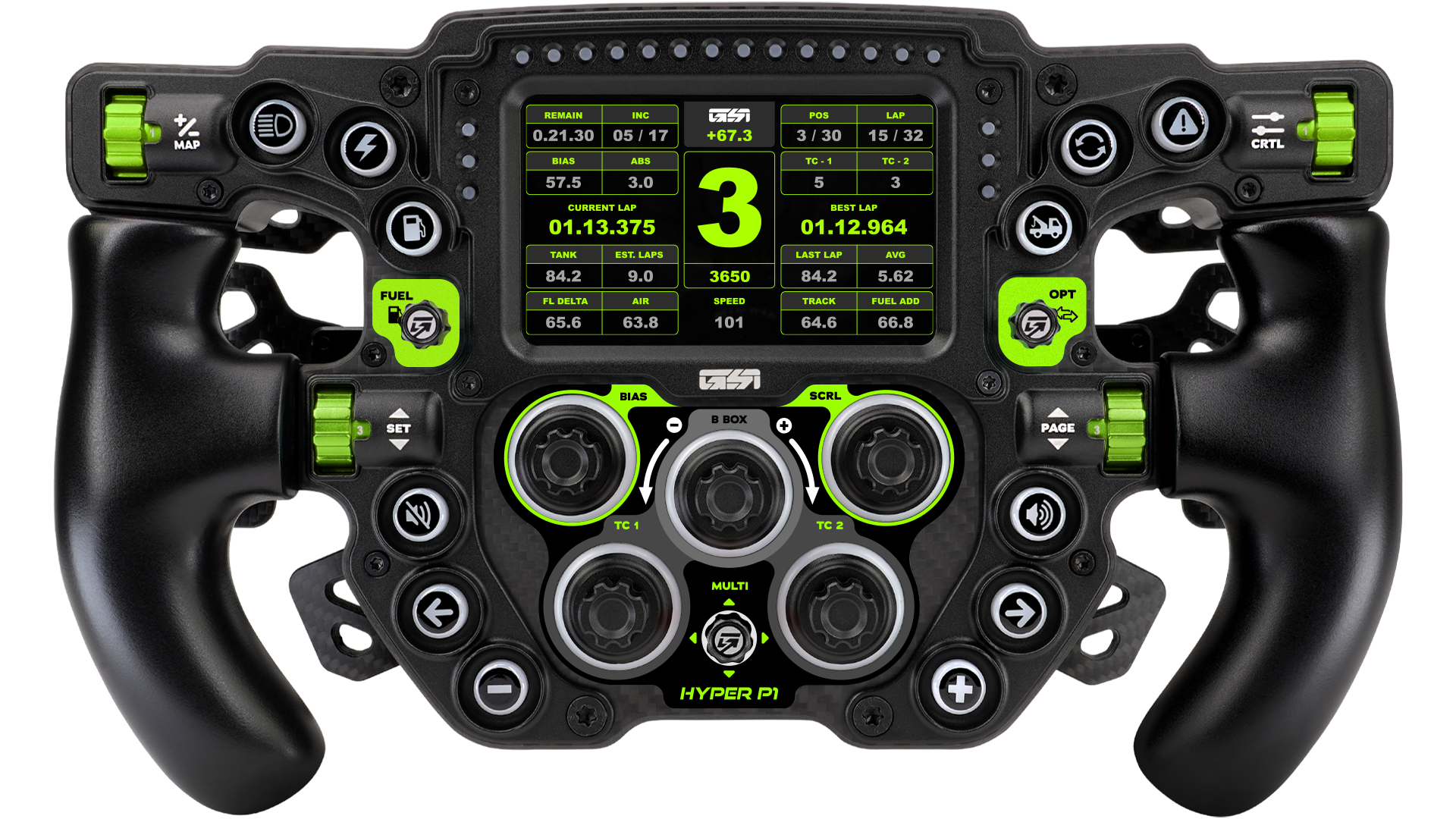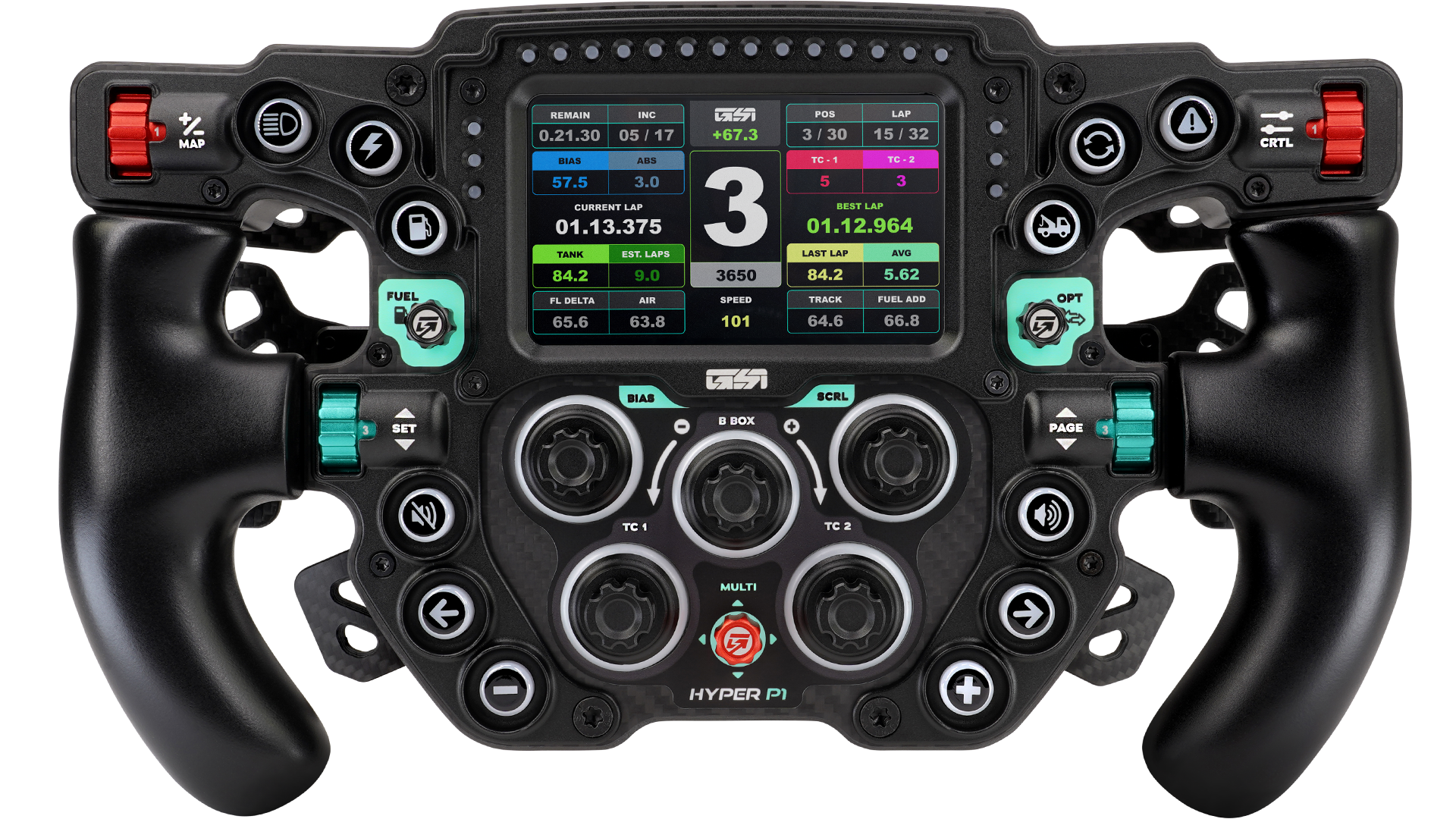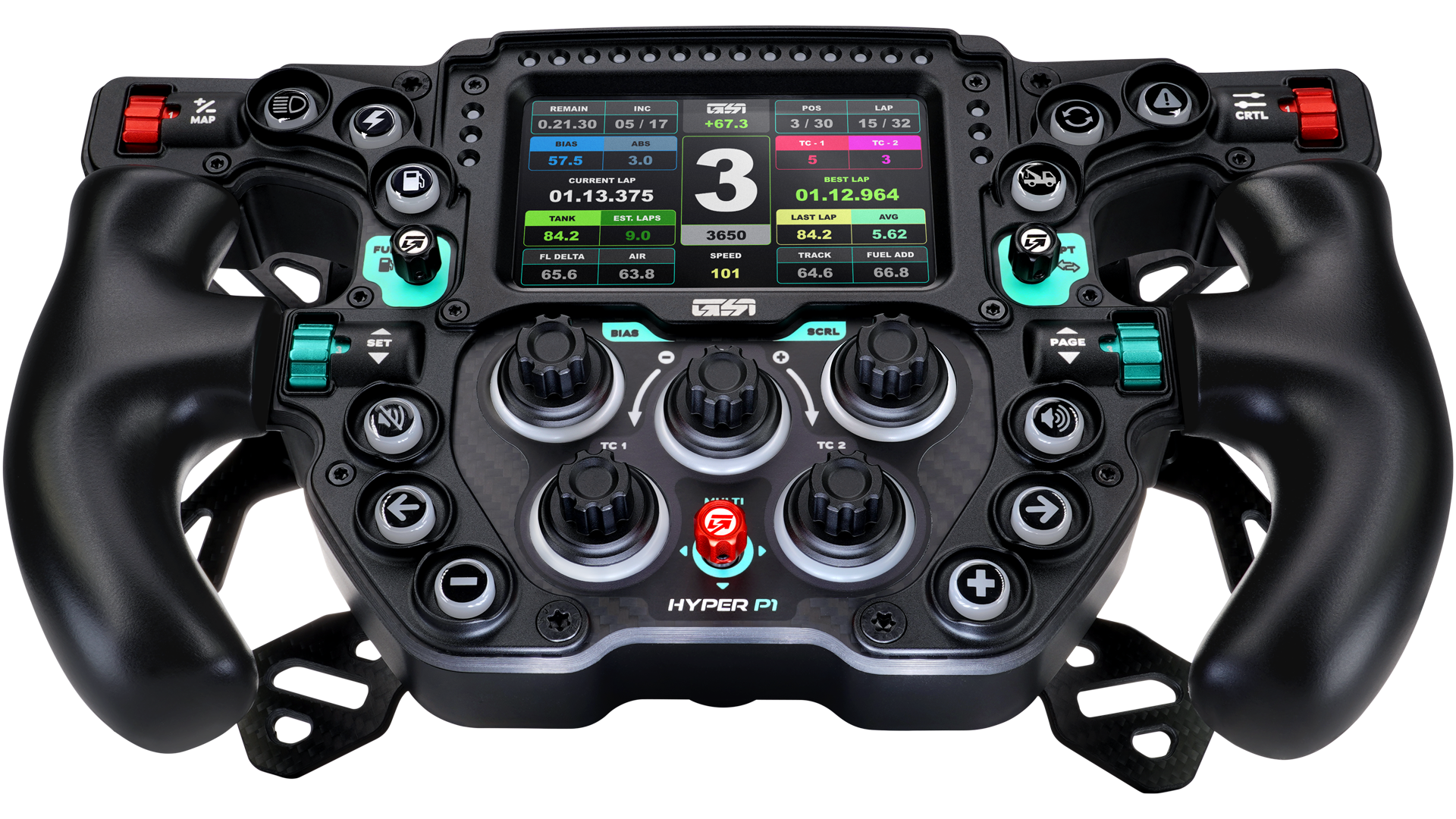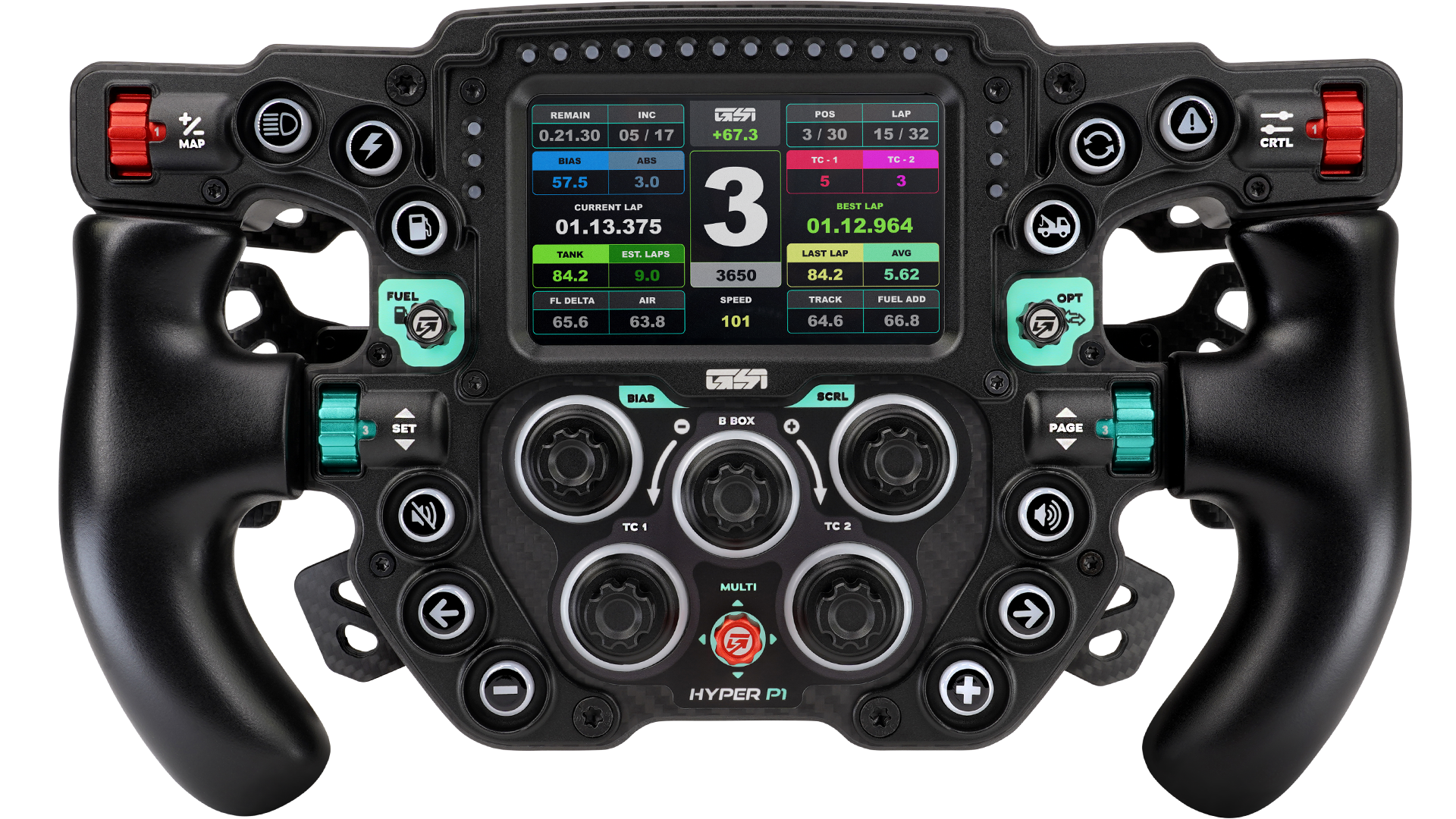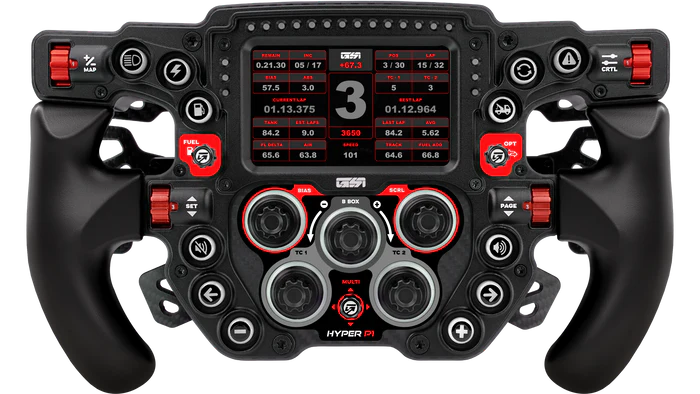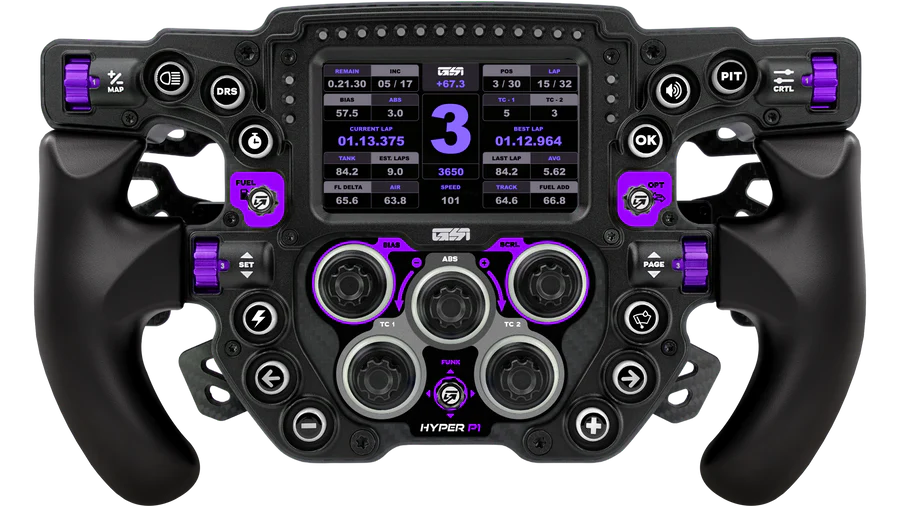 GOMEZ Sim Industries Hyper P1
---
Hyper P1 

The Hyper P1 is a culmination of everything the sim racing community has requested from GSI and more. With a strong motorsport driven design language, we focused not only on functionality but building a wheel that is worthy of the top spot in our line up. A product that at every turn, exudes top tier quality in materials and construction. A true "Halo" product for the most discerning sim racer.

KEY FEATURES

Hi-Res 4.3" LCD Touchscreen

3 + 14 + 3 RGB LED Rev Lights

5 Backlit RGB LED Push-Button Rotary Encoders with 5-way 

functionality.

12 Momentary RGB LED Push Buttons




(500 gram actuation force)

64 Total Mappable Inputs

6061 Aluminum Components

Direct-Injection Silicone Handles

5mm Carbon Fiber Faceplate

3 Seven-Way Multi Switches

"CEMS N52" V2 Shifters

Standard (6-Paddle configuration) aluminum

"Spec 3" Coiled Cable

88 Addressable RGB LEDs

300mm Diameter

70mm Threaded Bolt Pattern

Extra Label Sheet

COMPATIBILITY

Simucube

VRS DirectForce Pro

Fanatec DD Bases
(via Fanatec Podium Hub)

Accuforce (via Accuforce QR)

Simagic

Most 8nm+ wheelbases

RECOMMENDED CONNECTIONS

GSI Coiled Cable → Powered USB Hub → PC
GSI Coiled Cable → Active USB Repeater → PC

*Non-active USB extension cables are not recommended.

WHAT'S INCLUDED

Hyper P1
GSI "Spec 3" Coiled USB Cable
Extra Label Sheets
QRS-1 not included.

SOFTWARE:

GSI Control Center 

Upon installation, follow the instructions based on your GSI model. The installer will download all the necessary elements you need for smooth operation of your GSI model such as drivers and LED profiles. With GSI Control Center, you will be able to set on board functions for clutch calibration, clutch bite point, dead zones and master clutch selection.

GSI Dash v2

Designed for the GT-MAX32. Can be used on any SimHub compatible display.

GSI Dash v1

Desiged for the Formula Pro Elite. Can be used on any SimHub compatible display.

VoCore Driver

Standalone VoCore display driver. Used in all wheel models with a display.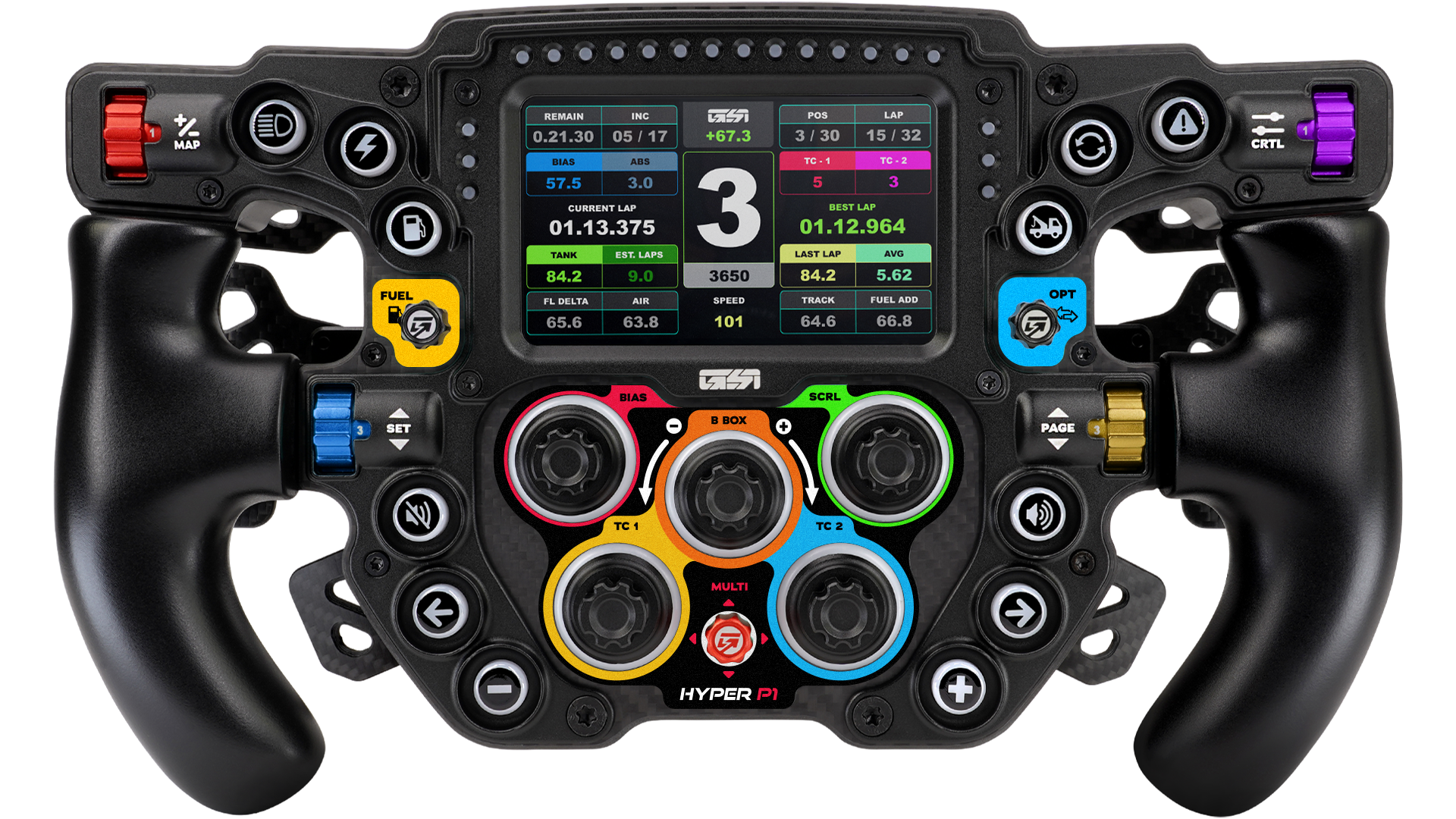 This product is rated 5.0 of 5.0 stars.
It has received 2 reviews.
Happy Customer
Very happy with my purchase of the GSI Hyper P1. Instructions for setup are clear and easy to follow. Sim Race City had the Hyper P1 in stock and ready to go. Received my order quickly! Very happy with service Sim Race City has provided.
Luvitt best all arounder
I really love this wheel. It has great larger grips unlike most wheels. I guess race car drivers are small guys so I've had trouble really gripping a lot of the cube controls stuff, etc…. brilliant move to have a third funky switch for menu navigations so the other 2 can be used for in game
The best shifter feel stability over adjustability
The buttons are good, but the last generation might have felt better, but since these are quick throws, they probably are better in game
Who is all in the middle so really great wheel. I think it's my favorite. There's really no other options if you're over 6 feet tall with briad shoulders and big hands